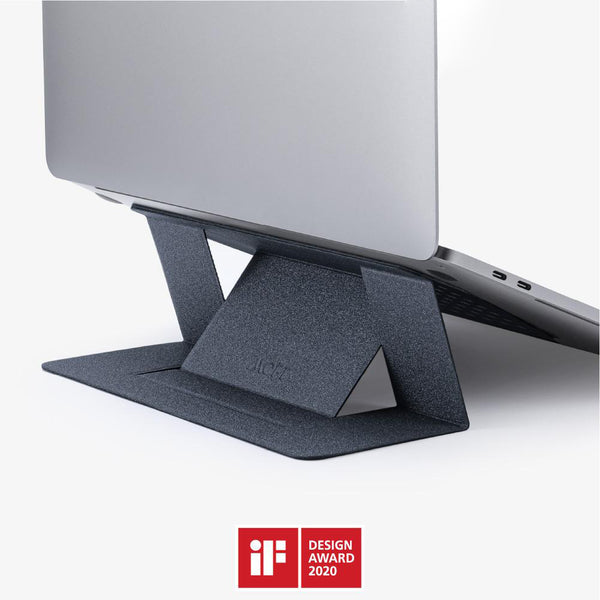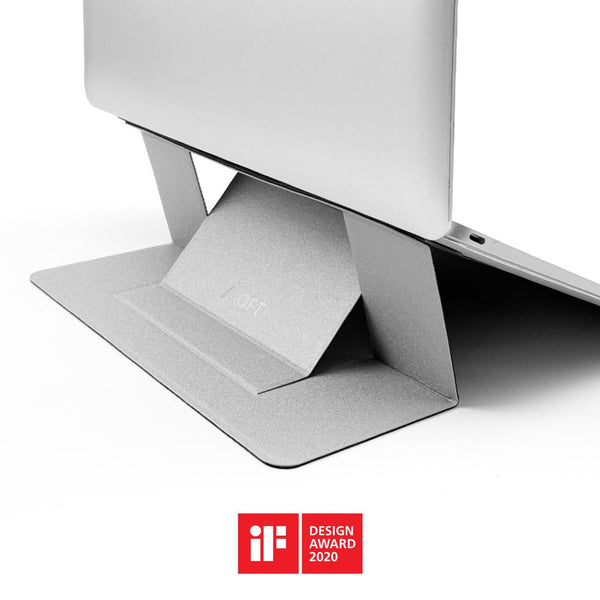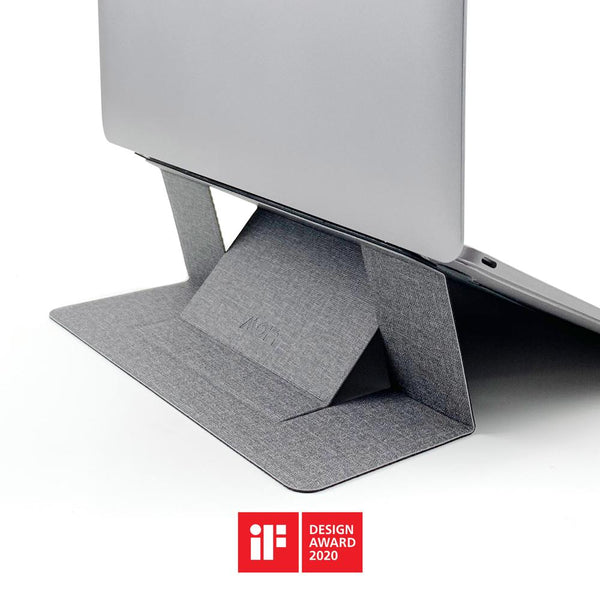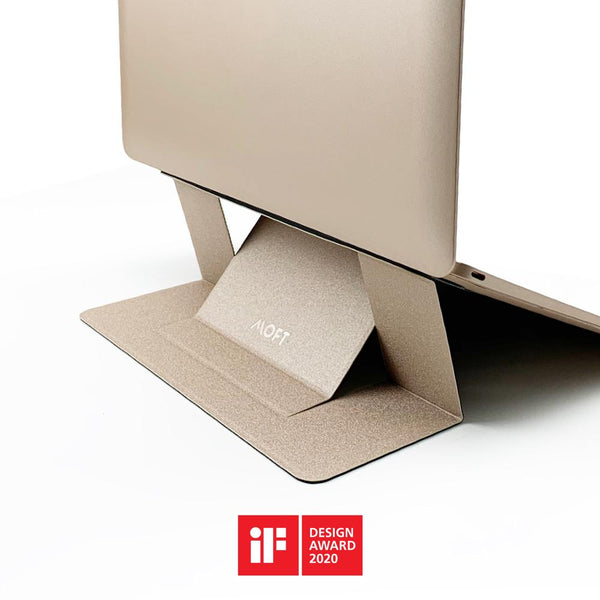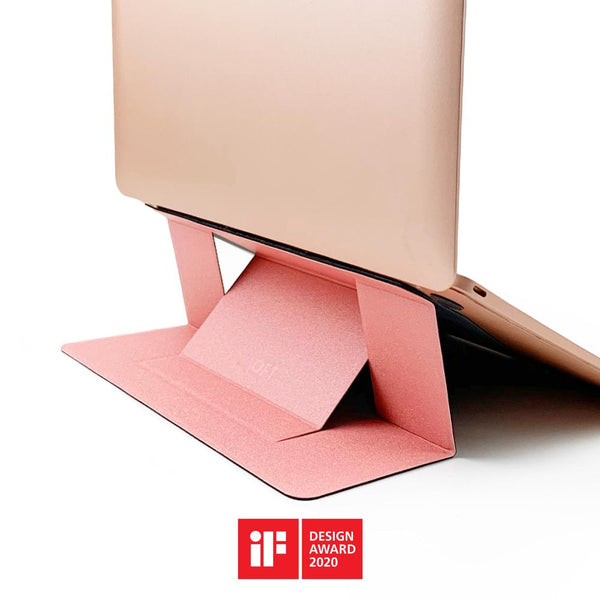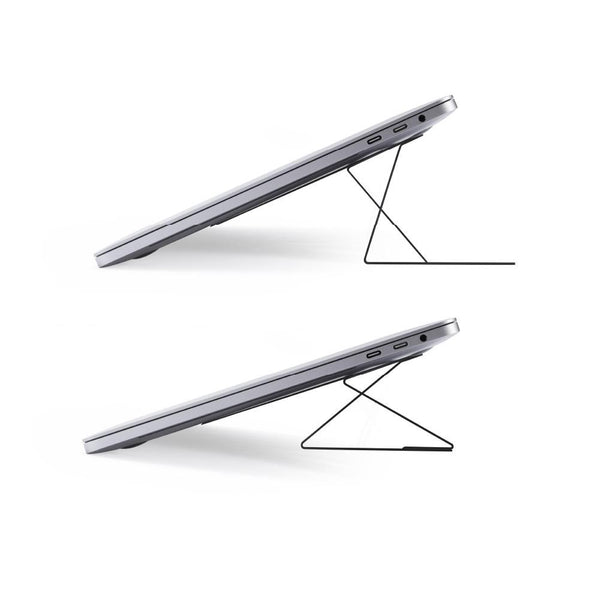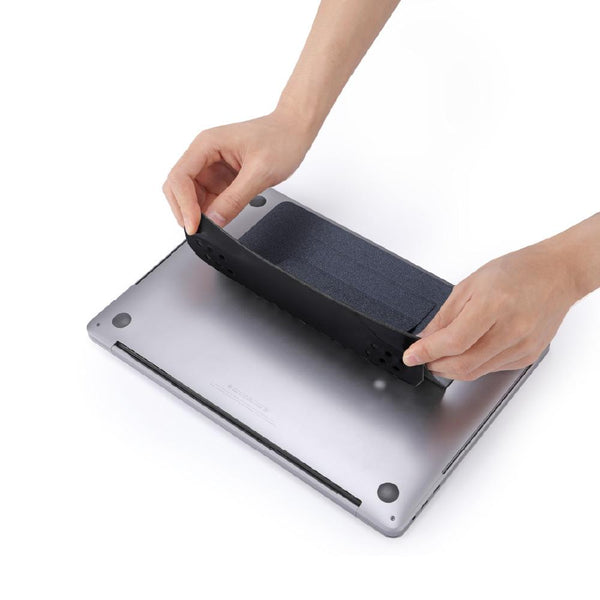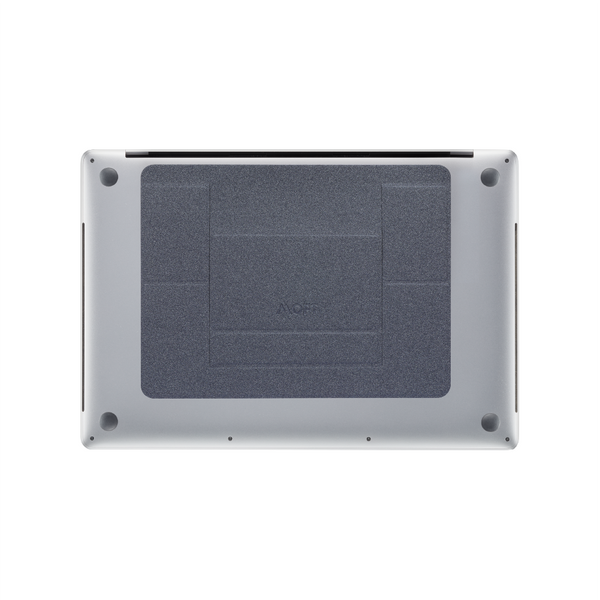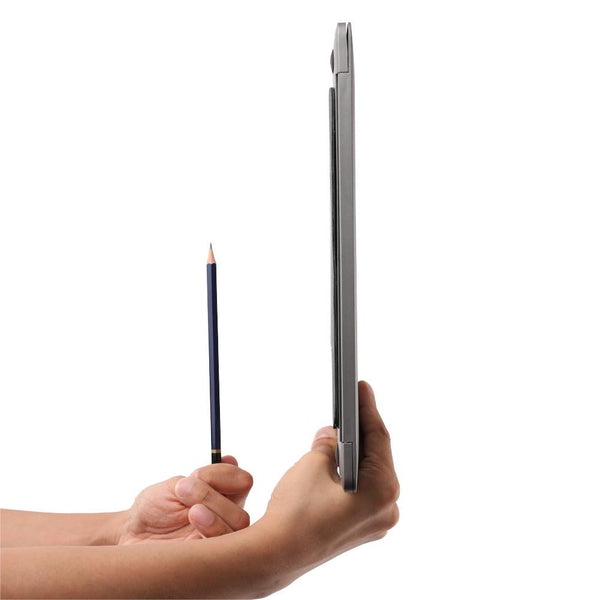 MOFT Laptop Stand
Feel like you always get more work done in the office? Then take the office everywhere you go. The MOFT Laptop Stand sticks to the base of your laptop, instantly boosting the height of your screen so you can work comfortably from anywhere.
Why you'll love it
Light. Fantastic.
At just 89g, the stand weighs the same as a deck of cards, so it's a breeze to carry around. The complete opposite to most other heftier stands which weigh you down on the move.
Better looking
With two elevation adjustments (2 and 3 inches), you don't need to look down at your screen anymore, so there's less strain on your neck and shoulders. Changing the heights regularly also stops your hands and wrists getting sore.
Slim but strong
Despite being only 3mm thin (the same as two strands of spaghetti, if you were wondering), the stand can hold up to 19lb. A secure base to work from even if you bash the keyboard when you type. 
Ready in seconds
Once you've found a flat surface to work from, the stand folds into place like magic. And when you're done for the day, the built-in magnets keep it flush with your laptop like it wasn't even there.
Extremely clingy
The clever adhesive lets you attach and detach the stand from your laptop without leaving a single mark or scratch. And you can reattach it again and again without losing any stickiness.
Got your back
In the weird event that there's a problem with your laptop stand, you have a 3-month quality guarantee. And if you need to speak to us about anything, our multinational team of friendly humans are ready to help.
What laptops does it hold?
The MOFT Laptop Stand comfortably supports laptops with screen sizes between 11.6" and 15.6".
The stand isn't suitable for laptops with vents on the bottom, because the solid base stops the air from passing through. But our MOFT Airflow Laptop Stand does the trick. 
If you've got a Surface Book or Surface Book Pro, this stand isn't right for you either, sorry – the kickstand just gets in the way.
Sizes and stuff
Dimensions when flat: Length: 170mm x Width: 224mm x Thickness: 3mm
What makes it stick: Special removable adhesive
How high it raises your screen: 2 or 3 inches – there are two height settings
Weight: 89g or 3oz
Material: Hardwearing PU and fibreglass
Oh, and just so you know: The colour in the photos may appear different to real life due to lighting used during the photoshoot or your monitor's display.